Marathon County Public Library
learning • community • ideas • information
---
---
Tax Forms

A selection of federal and state tax forms is available January-April at all MCPL locations, but please contact your local MCPL to verify the availability of specific forms. Alternatively, most forms, schedules and publications are available online at the following links:
If we don't have a particular tax form or publication, we may be able to print copies for you at 10¢ per page.
To request tax forms and publications by mail, call 1-800-829-3676 for federal and 608-266-1961 for state.
For local tax preparation assistance information, visit www.unitedwaymc.org/PDFs/211/TAXINFO.pdf.
Event of the moment:
Mon., 1/18/16 – Fri., 2/19/16 @ All MCPL Locations
The Milwaukee Bucks is challenging Wisconsin students in first through eighth grade to read during the winter months! With each page read, students score points. When a predetermined number of ...
(read more)
Book Club Sports All Locations Children Teens Tweens | Add to your calendar

.
Featured Online Resource
Searchable profiles of active grant-making foundations in Wisconsin, for use by local grant-writers. Please ask a Library staff-member for access; they will need to log you in.
Scholarships & Grants
Small Business
»
Adult Book ★★★★★ This book will give you more than enough ideas and inspirations to feed your wanderlust. National Geographic lives up to their reputation by giving you amazing destinations to visit broken down into categories of things to see around the world: nature unbound, hand of man, sea & shore, mo ... untain majesty and town & country. As if that isn't enough, they also include their own version of top ten visits for all sorts of things, one of which is spectacular bookstores! The information is very helpful in determining when to travel and how to blend in when visiting each destination. Equally as impressive are the abundant and gorgeous pictures throughout. This book made me think about whether my passport was up to date and whether I had enough vacation time. Lovers of travel everywhere, beware this marvelous book!
Reviewed by Ashley C.
Read more reviews at Goodreads.com.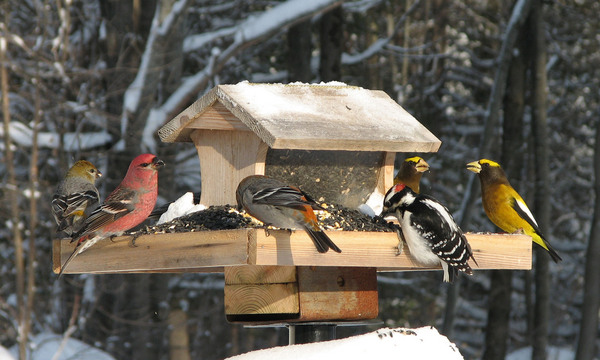 This year is the National Audubon Society's 116th annual Christmas Bird Count, one of the largest (if not the largest) citizen science initiatives in the nation. Volunteers from across the country will count and identify the birds that visit their home feeders sometime between ...
---
---