Marathon County Public Library
learning • community • ideas • information
---
Holiday hours: All MCPL locations will be closed by 5pm on Wed., 11/25, and closed all day Thu., 11/26.
---
Adult Book ★★★★ Twenty years ago, free-spirited and beautiful Julia Carroll disappeared. Her body was never found, and her family has not been able to put her to rest. Unable to come to terms with their grief, Julia's family is ripped apart. Her father dies searching for an answer, while her sisters, Claire ... and Lydia, refuse to speak to each other. In the present, the disappearance of another pretty girl and the murder of Claire's husband force the sisters into each others lives as they try to find out what really happened to Julia, discovering horrible truths along the way. This book is quite gruesome in parts, but the twists and turns will keep you reading long into the night! I would recommend this book to anyone who loves a good thriller filled with monstrous villains and heart-pounding suspense.
Reviewed by Laura W.
Read more reviews at Goodreads.com.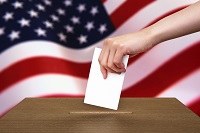 With the 2016 presidential election less than a year away nearly 20 candidates are still left vying for the nation's top spot. In addition to interviews and televised debates, another great resource for learning about the presidential hopefuls and where they stand on certain issues can be ...
---
Featured Online Resource
Book reviews written by Marathon County teens! Also includes reviews for games, movies, graphic novels, and magazines. Feel free to add comments and contribute your own reviews!
Teen
Reading Advice
»
---