Marathon County Public Library
learning • community • ideas • information
---
---
Featured Online Resource
An easy resource for students to search by keyword or by topic to find useful search results. Results can be easily sorted by source type—magazines, reference books, photos, flags, etc.
Badgerlink
Teen
Children
Login Required
Research Tools
»
Adult Book ★★★★★ This is the extraordinary love story of Clare, an artist, and Henry, a librarian and time traveler. Henry has known Clare since she was a little girl but doesn't know it until he meets her in real time where she knows who he is and is already in love with him. Discover the complexities of tim ... e travel through their love affair of the ages. You will not be able to put this book down and will be touched by the love that Clare and Henry share. This is an instant classic that you will read over and over.
Reviewed by Ashley C.
Read more reviews at Goodreads.com.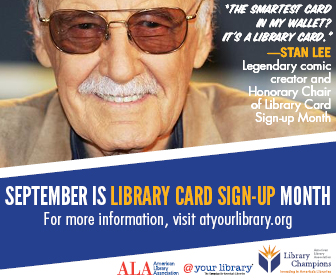 This September, libraries all across the country are reminding parents and children that a library card is the most important school supply, whether you are a child or an adult returning to school after a long absence. Legendary comic book creator Stan Lee is the face of the 2014-2015 national ...
---
---