Marathon County Public Library
learning • community • ideas • information
---
---
Event of the moment:
Mon., 12/7/15, 6:00pm – 8:00pm @ MCPL Wausau
The
Wisconsin Institute for Public Policy and Service
(WIPPS) is hosting a series of community forums aimed at gathering public input on several important topics. Thoughts and comments generated during these forums will be shared with federal officials and policymakers through a nationwide effort by the
Kettering Foundation
. Seating is limited to 18 participants for each forum. To register, call Connie Nikolai at 715-261-6368 or email connie.nikolai@uwc.edu. ...
(read more)
Community Money Management Social Issues Wausau Adults | Add to your calendar

.
Featured Online Resource
Written by Louis Marchetti and published in 1913, this is an often-cited work used for researching the early days of Marathon County.
Genealogy
Local History
Marathon County
»
Teen Book ★★★★★ Finch and Violet meet on the ledge of the bell tower at school, and Finch calmly provides directions that bring Violet back to solid ground. Violet, in turn, directs him. Finch, who already has a reputation as a "freak" is content to let the world believe the Violet is the hero. Violet, w ... ho is struggling with the death of her sister the previous spring (as evidenced by her self-imposed isolation), isn't sure how she came to be on that ledge or what to make of Finch. She finds herself partnered with Finch on a school project that requires them to visit sites of note in their home state of Indiana, and so their "wanderings" begin. The resulting relationship expands Violet's horizons once again, and Finch is astounded by the realization that he can truly be himself with her, though he struggles to keep his wandering thoughts, moods, and anger in check. This is a realistic, heartbreaking story with mature themes, including mental illness and suicide that are explored in a thoughtful manner. It's a touching story, beautifully told from the alternating points of view of Violet and Finch, each of whom have a distinct voice. The audiobook is excellent. Fans of Laurie Halse Anderson, Matthew Quick, and Ned Vizzini are likely to appreciate this book.
Reviewed by Rachel H.
Read more reviews at Goodreads.com.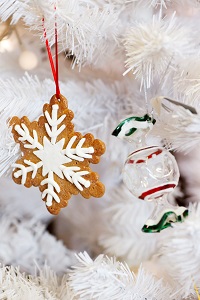 It's beginning to look a lot like Christmas at the Marathon County Public Library, with 10 holiday-themed events scheduled between now and December 21 at the Wausau Headquarters and its eight branches. Running now through December 14, MCPL is kicking off the holiday season with ...
---
---