Marathon County Public Library
learning • community • ideas • information
---
Holiday hours: All MCPL locations will be closed by 5pm on Wed., 11/25, and closed all day Thu., 11/26.
---
Event of the moment:
Mon., 12/7/15, 6:00pm – 8:00pm @ MCPL Wausau
The
Wisconsin Institute for Public Policy and Service
(WIPPS) is hosting a series of community forums aimed at gathering public input on several important topics. Thoughts and comments generated during these forums will be shared with federal officials and policymakers through a nationwide effort by the
Kettering Foundation
. Seating is limited to 18 participants for each forum. To register, call Connie Nikolai at 715-261-6368 or email connie.nikolai@uwc.edu. ...
(read more)
Community Money Management Social Issues Wausau Adults | Add to your calendar

.
Adult Book ★★★★★ In this book, Ann Coulter dares to go where no one has gone before, behind the myths to the facts of the issue of immigration (both legal and illegal) in America. Coulter submits that when citizens dare challenge and object to the millions of immigrants flooding America's borders, they are ... labeled as "hater", "racist" or worse to prevent real analysis of how immigration is changing America in very negative ways. This book is a thorough analysis of immigration beyond slogans. Coulter poses that immigration is "THE" most important issue of our country and could negatively impact it for generations and proves this with data, facts and evidence. She is not the only one who feels this way; for example, she cites countless polls and surveys that indicate that the average American citizen also feels the same. Coulter speaks with alarm and concern because the facts and evidence are not being presented for analysis by American citizens. Using countless examples, she shows how the media, politicians and American business interests (in the form of the Chamber of Commerce) are really colluding to present an untrue picture of immigration both legal and primarily those illegal. For example, the media withholds information, rarely citing the immigrant status of perpetrators, but using the innocuous, "the man," in news stories. Politicians either want pliable voters or cheap labor (a debt to their moneyed contributors) regardless of the harm that ensues. Coulter's evidence of the harm and damage to our country fills the book. For example, rather than "dreamers", our prisons are filled with immigrants (many repeat offenders). The illegal drug trade is in the hands of Mexican illegals aligned with cartels. From the spectacular tax money drain going to social services and schools, to the deep cultural divide and differences (cultures where degradation of women and children is a cultural norm), America is significantly being negatively impacted. If you are a frustrated, concerned citizen and want solid facts and information about immigration in America today, this book is for you.
Reviewed by Marsha Y.
Read more reviews at Goodreads.com.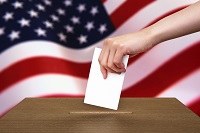 With the 2016 presidential election less than a year away nearly 20 candidates are still left vying for the nation's top spot. In addition to interviews and televised debates, another great resource for learning about the presidential hopefuls and where they stand on certain issues can be ...
---
Featured Online Resource
Full-text content of the Wausau Daily Herald from 1999 through yesterday. Excludes images and advertisements. The first few years of this index may not include all articles; if you can't find what you seek, you can search our microfilm archive. For exact duplicates of printed articles and other searches via microfilm,
contact us
.
Please note: Use of this resource is limited to patrons of MCPL. It is not available to patrons of other V-Cat libraries.
Genealogy
Login Required
Marathon County
Newspapers & Magazines
Research Tools
»
---