Marathon County Public Library
learning • community • ideas • information
---
---
Tax Forms

A selection of federal and state tax forms is available January-April at all MCPL locations, but please contact your local MCPL to verify the availability of specific forms. Alternatively, most forms, schedules and publications are available online at the following links:
If we don't have a particular tax form or publication, we may be able to print copies for you at 10¢ per page.
To request tax forms and publications by mail, call 1-800-829-3676 for federal and 608-266-1961 for state.
For local tax preparation assistance information, visit www.unitedwaymc.org/PDFs/211/TAXINFO.pdf.
Event of the moment:
Mon., 1/18/16 – Fri., 2/19/16 @ All MCPL Locations
The Milwaukee Bucks is challenging Wisconsin students in first through eighth grade to read during the winter months! With each page read, students score points. When a predetermined number of ...
(read more)
Book Club Sports All Locations Children Teens Tweens | Add to your calendar

.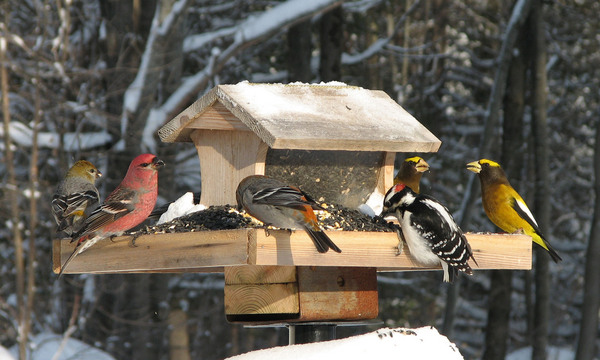 This year is the National Audubon Society's 116th annual Christmas Bird Count, one of the largest (if not the largest) citizen science initiatives in the nation. Volunteers from across the country will count and identify the birds that visit their home feeders sometime between ...
---
Featured Online Resource
Provides regularly-updated investment research on stocks, mutual funds, options and convertibles. Rates most stocks and funds according to a proprietary formula and assigns a "Value Line" score.
Please note: Use of this resource is limited to patrons of MCPL. It is not available to patrons of other V-Cat libraries.
Finance & Investing
Login Required
»
Adult Book ★★★★★ When Harley Jackson sees the unmistakable image of Jesus Christ on a newborn calf's flank on Christmas Eve, he recognizes it for what it is: trouble. As a single fellow accustomed to a quiet life in his small, rural Wisconsin community, Harley wants nothing to do with the attention the calf ... will draw. He's reluctant to capitalize on the calf despite his best friend Billy's assertions that the attention could save what's left of his family farm and goes to humorous lengths to keep the calf under wraps as he embarks on a relationship with newcomer Mindy. Nothing can stay secret for long in the fictional Swivel, WI, and once word gets out, chaos, hilarity, and unforeseen consequences ensue. If you are a fan of Michael Perry's non-fiction work you'll enjoy "The Jesus Cow", which is his first book of fiction. The book is undeniably funny, but Harley has an introspective and melancholy streak that grounds the story. It's an exploration of faith, community, and relationships packaged in a charming, humorous story. Perry narrates the audiobook, which is delightful. As someone who grew up in small-town Wisconsin, I particularly appreciated the authenticity he brought to the rural Wisconsin dialect.
Reviewed by Rachel H.
Read more reviews at Goodreads.com.
---