Marathon County Public Library
learning • community • ideas • information
---
---
Tax Forms

A selection of federal and state tax forms is available January-April at all MCPL locations, but please contact your local MCPL to verify the availability of specific forms. Alternatively, most forms, schedules and publications are available online at the following links:
For local tax preparation assistance, visit our Online Resources webpage and select the "Taxes" topic.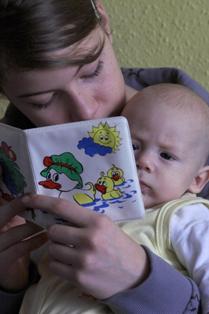 Beginning Monday, January 5, 2015, MCPL is taking a new approach to Book Babies Story time. Story time will begin at 10 a.m., and just like usual, provide 15 minutes of books, songs, and rhymes. But then, parents and babies are encouraged to hang out after and give babies a chance to do ...
---
Featured Online Resource
Provides braille and recorded books and playback equipment for Wisconsin residents who for any physical reason cannot read normal print. Part of the Talking Book Program of the Library of Congress. For access to these materials locally, please call 715-261-7200.
Audiobooks
Visually Impaired
»
Adult Book ★★★★ This well-written biography provides a fascinating glimpse into the life and times of fashion designer Elsa Schiaparelli. The fiery Italian was a rival of Coco Chanel, good friend of Salvador Dali, and a mentor to Hubert De Givenchy. Schiaparelli created the famous lobster print dress that Wa ... llis Simpson wore after she married the Duke of Windsor, and designed wrap dresses long before Diane von Furstenberg. Although I enjoyed looking at the beautiful color photographs of her designs, I found the sections about Schiaparelli's personal life and her rise to fame especially interesting.
Reviewed by Kathleen K.
Read more reviews at Goodreads.com.
---