Marathon County Public Library
learning • community • ideas • information
---
---
Event of the moment:
Mon., 12/7/15, 6:00pm – 8:00pm @ MCPL Wausau
The
Wisconsin Institute for Public Policy and Service
(WIPPS) is hosting a series of community forums aimed at gathering public input on several important topics. Thoughts and comments generated during these forums will be shared with federal officials and policymakers through a nationwide effort by the
Kettering Foundation
. Seating is limited to 18 participants for each forum. To register, call Connie Nikolai at 715-261-6368 or email connie.nikolai@uwc.edu. ...
(read more)
Community Money Management Social Issues Wausau Adults | Add to your calendar

.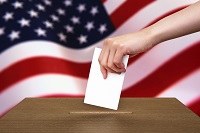 With the 2016 presidential election less than a year away nearly 20 candidates are still left vying for the nation's top spot. In addition to interviews and televised debates, another great resource for learning about the presidential hopefuls and where they stand on certain issues can be ...
---
Teen Book ★★★★★ Sixteen-year-old Alice has been waiting for four years for her older sister Annie to come home. Alice knew one thing—her wealthy, reputation-conscious, Hollywood-insider parents had not been truthful about the reasons for then sixteen-year-old Annie's rebellious departure. Summoned to her ... comatose sister's hospital bedside, Alice decides that she cannot just sit back and wait this time. Determined to find the person or people who beat up her sister and left her for dead, Alice warily joins forces with a P.I. claiming to be a friend of her sister. She quickly finds herself immersed in a sordid story of power, corruption, betrayal, and a young witness on the run. Set in the Hollywood's Golden Age, "Dead to Me" is classic noir with a jaded teen girl as Sam Spade, albeit one with a personal investment in bringing the guilty to justice. As a fan of noir and teen fiction, I enjoyed the story and the strong sense of time and place that permeates the novel. Fans of noir, the television series Veronica Mars, or the Keaton Academy series of books are likely to enjoy this vintage noir story featuring another resourceful, tenacious California girl.
Reviewed by Rachel H.
Read more reviews at Goodreads.com.
---