Marathon County Public Library
learning • community • ideas • information
---
---
Tax Forms

A selection of federal and state tax forms is available January-April at all MCPL locations, but please contact your local MCPL to verify the availability of specific forms. Alternatively, most forms, schedules and publications are available online at the following links:
If we don't have a particular tax form or publication, we may be able to print copies for you at 10¢ per page.
To request tax forms and publications by mail, call 1-800-829-3676 for federal and 608-266-1961 for state.
For local tax preparation assistance information, visit www.unitedwaymc.org/PDFs/211/TAXINFO.pdf.
Event of the moment:
Mon., 1/18/16 – Fri., 2/19/16 @ All MCPL Locations
The Milwaukee Bucks is challenging Wisconsin students in first through eighth grade to read during the winter months! With each page read, students score points. When a predetermined number of ...
(read more)
Book Club Sports All Locations Children Teens Tweens | Add to your calendar

.
Adult Book ★★★★ Looking for chemical-free, safe ways to remedy common illnesses and problems? This is a great, illustrated resource packed full of information for anyone looking for safe (and cheaper) home remedies to common problems like headaches, toothaches, nausea, burns, and allergies. This also include ... s helpful tips on most topics, like how to prevent certain problems and/or when further medical attention is needed. I found many home remedies I'm already utilizing (with great results!), but there were a few new tools I can add to my toolbox now.
Reviewed by Sarah M.
Read more reviews at Goodreads.com.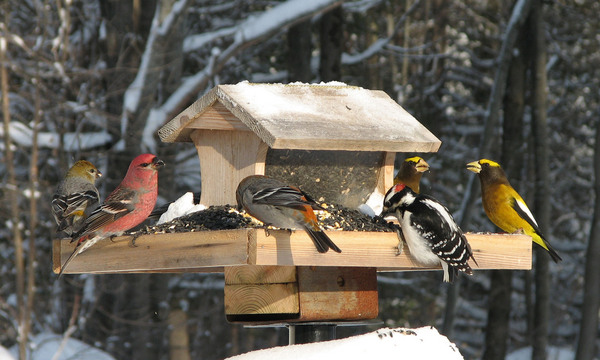 This year is the National Audubon Society's 116th annual Christmas Bird Count, one of the largest (if not the largest) citizen science initiatives in the nation. Volunteers from across the country will count and identify the birds that visit their home feeders sometime between ...
---
Featured Online Resource
An online archive of the rich local history of the towns, villages, and cities in Marathon County, including centennial histories written by local residents, with many illustrations documenting family life and economic development in central Wisconsin.
Local History
Marathon County
»
---