Marathon County Public Library
learning • community • ideas • information
---
---
Tax Forms

A selection of federal and state tax forms is available January-April at all MCPL locations, but please contact your local MCPL to verify the availability of specific forms. Alternatively, most forms, schedules and publications are available online at the following links:
If we don't have a particular tax form or publication, we may be able to print copies for you at 10¢ per page.
To request tax forms and publications by mail, call 1-800-829-3676 for federal and 608-266-1961 for state.
For local tax preparation assistance information, visit www.unitedwaymc.org/PDFs/211/TAXINFO.pdf.
Featured Online Resource
Provides regularly-updated investment research on stocks, mutual funds, options and convertibles. Rates most stocks and funds according to a proprietary formula and assigns a "Value Line" score.
Please note: Use of this resource is limited to patrons of MCPL. It is not available to patrons of other V-Cat libraries.
Finance & Investing
Login Required
»
Adult Book ★★★★★ I read this book many years ago, but after listening to the soundtrack of the recent musical based on the book and the movie, I decided to revisit the story that I had remembered. "The Bridges of Madison County" by Robert James Waller, is a love story; a story of a love that was unexpected, s ... hort-lived, forbidden, but so powerful that it haunted the two main characters' lives forever. In the summer of 1965 while Francesca Johnson's husband and two children were attending the Illinois State Fair, Robert Kincaid, a ruggedly handsome worldly photographer, packs up his pickup truck and travels to Madison County, Iowa to photograph covered bridges for National Geographic magazine. Robert stops at a farm to ask directions to a local bridge. When Francesca agrees to show him, their chance encounter leads to a mutual desire that is undeniable. Over the next four days, Robert and Francesca fall madly in love. She has never felt such passion. Robert asks her to leave with him saying, "In a universe of ambiguity, this kind of certainty comes only once, and never again, no matter how many lifetimes you live." Will Francesca leave the responsibilities of her comfortable but provincial life? The author writes from different perspectives and gives a moving visual of this bittersweet love affair. In an especially poignant section of the book, Francesca celebrates her birthday 22 years later, reflecting on her life and lost love. "The Bridges of Madison County" is a quick and enjoyable read for those who would enjoy a melancholy love story.  
Reviewed by Lisa H.
Read more reviews at Goodreads.com.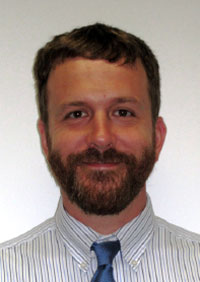 Meet Chad Dally, Library Specialist, event coordinator and adult event planner at MCPL Wausau! Q: What is the best part of your job? A: The variety of information sought by our patrons and connecting them with that info, and the freedom to try a wide range of adult programs. Q: What is your ...
---
---