Marathon County Public Library
learning • community • ideas • information
---
---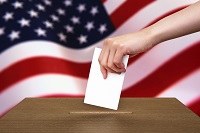 With the 2016 presidential election less than a year away nearly 20 candidates are still left vying for the nation's top spot. In addition to interviews and televised debates, another great resource for learning about the presidential hopefuls and where they stand on certain issues can be ...
---
Featured Online Resource
Search for company profiles, market research, industry profiles, international economic and political data and more.
Badgerlink
Finance & Investing
Login Required
Small Business
»
Children's Book ★★★★ It's a fun, upside-down world in this new picture book that's full of nonsense by Eric Carle. A boy is pulled from a hat by a rabbit magician, a bird is living in an aquarium and a fish in a cage, a human baby is in a kangaroo's pouch, mice are catching cats, a man is living in a dog house ... and more. It's all of course in good fun. With classic, colorful, uncluttered illustrations and rhyming text, Carle creates a wonderfully silly environment for preschool kids to explore, respond to, and perhaps learn a few new words.
Reviewed by Sharyn H.
Read more reviews at Goodreads.com.
---