Marathon County Public Library
learning • community • ideas • information
---
---
Tax Forms

A selection of federal and state tax forms is available January-April at all MCPL locations, but please contact your local MCPL to verify the availability of specific forms. Alternatively, most forms, schedules and publications are available online at the following links:
If we don't have a particular tax form or publication, we may be able to print copies for you at 10¢ per page.
To request tax forms and publications by mail, call 1-800-829-3676 for federal and 608-266-1961 for state.
For local tax preparation assistance information, visit www.unitedwaymc.org/PDFs/211/TAXINFO.pdf.
Featured Online Resource
Newspaper Source Plus includes over 1,500 full-text newspapers and newswires, providing more than 27 million full-text articles. In addition, the database features more than 583,100 television and radio news transcripts, videos and podcasts. Nine Wisconsin newspapers are included.
Badgerlink
Login Required
Newspapers & Magazines
»
Adult Book ★★★★★ For those of you who aren't familiar with Aziz Ansari, he is an actor (perhaps best known from Parks & Recreation) and a stand-up comedian, but this isn't a typical book by a comic. The book was inspired in part by a segment of his stand-up routine and is filled with humor throughout, ... but it's actually a carefully researched book that examines the state of romantic relationships in our modern, tech-savvy world. Ansari teamed up with NYU sociologist Eric KIinenberg to conduct focus groups throughout the US as well as Paris, Tokyo, and Buenos Aires. They also collected data through a Reddit survey. The result is a well-informed, thoughtful exploration of the state of romance and the new complexities that technology has added to an already complex equation. I appreciated the intelligence, humor, and big-heartedness brought to the topic and Ansari's plea for all to remember the humanity of the people utilizing technology to pursue relationships and act accordingly. I listened to the audiobook, which is available through OverDrive and narrated by the author. I enjoyed the audiobook immensely and recommend it, but (as Ansari points out) there is a bit of a disadvantage when it comes to the graphs and charts that are in the print version, though you can always check out the print copy for the visuals.
Reviewed by Rachel H.
Read more reviews at Goodreads.com.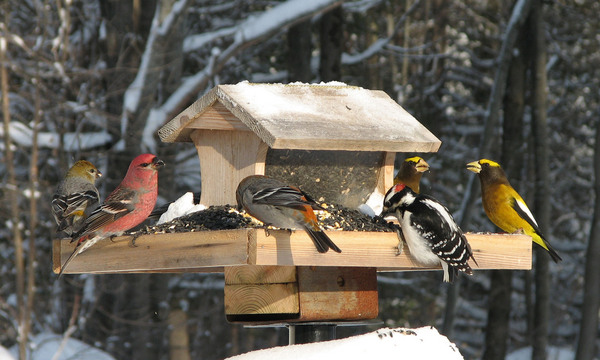 This year is the National Audubon Society's 116th annual Christmas Bird Count, one of the largest (if not the largest) citizen science initiatives in the nation. Volunteers from across the country will count and identify the birds that visit their home feeders sometime between ...
---
---