Marathon County Public Library
learning • community • ideas • information
---
---
Tax Forms

A selection of federal and state tax forms is available January-April at all MCPL locations, but please contact your local MCPL to verify the availability of specific forms. Alternatively, most forms, schedules and publications are available online at the following links:
If we don't have a particular tax form or publication, we may be able to print copies for you at 10¢ per page.
To request tax forms and publications by mail, call 1-800-829-3676 for federal and 608-266-1961 for state.
For local tax preparation assistance information, visit www.unitedwaymc.org/PDFs/211/TAXINFO.pdf.
Event of the moment:
Mon., 1/18/16 – Fri., 2/19/16 @ All MCPL Locations
The Milwaukee Bucks is challenging Wisconsin students in first through eighth grade to read during the winter months! With each page read, students score points. When a predetermined number of ...
(read more)
Book Club Sports All Locations Children Teens Tweens | Add to your calendar

.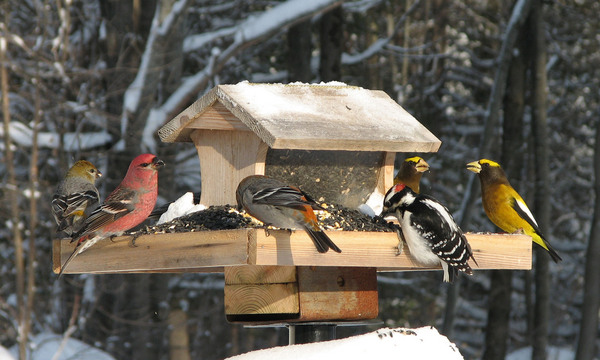 This year is the National Audubon Society's 116th annual Christmas Bird Count, one of the largest (if not the largest) citizen science initiatives in the nation. Volunteers from across the country will count and identify the birds that visit their home feeders sometime between ...
---
Featured Online Resource
For college-level and adult researchers, this EBSCO database includes nearly 100,000 dissertations from 1933-1955 and is searchable by dissertation title, author and school. It is a digitized version of H.W. Wilson's "Doctoral Dissertations Accepted by American Universities."
Badgerlink
Research Tools
»
Teen Book ★★★★★ In this letter to his adolescent son, Coates reflects upon what it means to grow up and live in the United States while inhabiting a black body. It is a combination of history, social commentary, and memoir as Coates explains to his son the complexities of his own journey to adulthood and exp ... lores the larger context of the history of race in the United States. It is expertly crafted, insightful, and moving. If you appreciate books that allow you to walk in the shoes of another and see life through their eyes, this is the book for you. I appreciated the candor with which Coates details his personal history, particularly his childhood in West Baltimore, where life was ruled by fear on the part of parents and children alike. Issues of race, justice, and law enforcement continue to be a part of the national discussion. "Between the World and Me," which recently received the National Book Award for non-fiction, makes a valuable contribution to that discussion. The audio book, which is narrated by the author, is excellent, though I admit I'm tempted to read the print version of the book too.
Reviewed by Rachel H.
Read more reviews at Goodreads.com.
---