learning • community • ideas • information
---
Search the Library Catalog (
V-Cat
):
Search this website or the Internet:
---
In January, The Marathon County Public Library Wausau Headquarters will host a traveling historical exhibit about the White Rose, a student resistance group in Germany who rebelled against the Nazis. Through photos and text, the exhibit tells the story of how the students and one of their ... (read more) | (comment)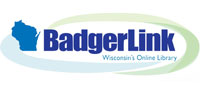 BadgerLink is a state-funded collection of databases and online services offered to the public for free. Many of the resources on the Marathon County Public Library's Online Resources webpage are offered courtesy of BadgerLink. Now, the Wisconsin Department of Public Instruction ... (read more) | (comment)
Staff Reviews
Adult Book ★★★★★ Although biased by the adoration of any novel by Adriana Trigiani, I was immediately blown away and entrapped by her latest novel, "The Shoemaker's wife." Spanning from the Italian Alps to New York City, this novel follows the lives of Enza and Ciro, characters readers are apt to immediately ... (read more) | (check it out)
View more reviews of "The Shoemaker's Wife" at Goodreads.com .
---