Marathon County Public Library
learning • community • ideas • information
---
Holiday hours: All MCPL locations will be closed by 5pm on Wed., 11/25, and closed all day Thu., 11/26.
---
Event of the moment:
Mon., 12/7/15, 6:00pm – 8:00pm @ MCPL Wausau
The
Wisconsin Institute for Public Policy and Service
(WIPPS) is hosting a series of community forums aimed at gathering public input on several important topics. Thoughts and comments generated during these forums will be shared with federal officials and policymakers through a nationwide effort by the
Kettering Foundation
. Seating is limited to 18 participants for each forum. To register, call Connie Nikolai at 715-261-6368 or email connie.nikolai@uwc.edu. ...
(read more)
Community Money Management Social Issues Wausau Adults | Add to your calendar

.
Featured Online Resource
Subscribe to any of these email newsletters and receive regular updates of new and suggested books in a variety of genres!
Please note: Not all of these books are in the library's collection. If you select a book we don't own, you will be taken to a pre-filled purchase suggestion form.
Reading Advice
»
Adult Book ★★★★★ In this lovely new novel set in Milwaukee, Lou, owner and extremely talented chef of her own restaurant, literally runs into the food critic who eventually threatens to destroy her restaurant. Unbeknownst to either of them at the time, the food critic, Al, cannot forget the smell of vanilla a ... nd coconut Lou carried with her after their run in. But later that day, after Lou walked in on her fiancé with another woman, she can barely keep it together during the dinner rush. With horrible timing, Al chooses that disastrous night to review the restaurant, unaware that Lou owns it. When the two run into each other again, they plan excursions for Lou to show Al, who's in Milwaukee all the way from London, the sights and scrumptious food local to the area. While I normally greatly dislike novels set in Wisconsin (as I normally prefer to read novels set anywhere other than where I live), I instantly fell for Lou and Al and the obstacles in their way to finding true happiness. Along with a loveable set of friends surrounding the pair are delicious descriptions of meals that will leave your mouth watering. This is a wonderful read about second chances, true love, powerful friendships, and the power of an amazing meal.
Reviewed by Sarah M.
Read more reviews at Goodreads.com.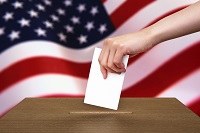 With the 2016 presidential election less than a year away nearly 20 candidates are still left vying for the nation's top spot. In addition to interviews and televised debates, another great resource for learning about the presidential hopefuls and where they stand on certain issues can be ...
---
---