Marathon County Public Library
learning • community • ideas • information
---
---
Children's Book ★★★★★ "Ice Dogs" is a very well written adventure book for tweens. The story is told from 14 year-old Victoria Secord's point of view, and follows her adventure of being lost in the Alaskan Wilderness. Victoria has grown up in Alaska and has been around dogsled racers most of her life. Following th ... e death of her dad she takes to the races. While out on a run she happens across a boy who has been in a snowmobile accident and helps him find his way home. Along the way they get lost and need to get home before the cold takes them. I couldn't put the book down! It was gripping yet humorous. It's a great book for boys and girls who love animals and adventure.
Reviewed by Heather B.
Read more reviews at Goodreads.com.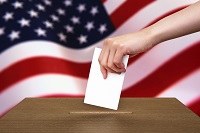 With the 2016 presidential election less than a year away nearly 20 candidates are still left vying for the nation's top spot. In addition to interviews and televised debates, another great resource for learning about the presidential hopefuls and where they stand on certain issues can be ...
---
Featured Online Resource
Provides you with a connection for tracing family history and American culture. Images of original documents are provided.
Badgerlink
Genealogy
Login Required
»
---