Marathon County Public Library
learning • community • ideas • information
---
---
Tax Forms

A selection of federal and state tax forms is available January-April at all MCPL locations, but please contact your local MCPL to verify the availability of specific forms. Alternatively, most forms, schedules and publications are available online at the following links:
If we don't have a particular tax form or publication, we may be able to print copies for you at 10¢ per page.
To request tax forms and publications by mail, call 1-800-829-3676 for federal and 608-266-1961 for state.
For local tax preparation assistance information, visit www.unitedwaymc.org/PDFs/211/TAXINFO.pdf.
Event of the moment:
Mon., 1/18/16 – Fri., 2/19/16 @ All MCPL Locations
The Milwaukee Bucks is challenging Wisconsin students in first through eighth grade to read during the winter months! With each page read, students score points. When a predetermined number of ...
(read more)
Book Club Sports All Locations Children Teens Tweens | Add to your calendar

.
Featured Online Resource
Full text general reference publications, periodicals, reference books, primary source documents covering virtually every subject area of general interest; includes photos, maps and flags.
Badgerlink
Newspapers & Magazines
»
Tween Book ★★★★ Imagine catching dreams, distilling them, pouring them into bottles and selling them to people searching for certain types of dreams. This is what Sophie's parents do somewhat secretly in the lower level of their bookstore. Sophie, however, is not allowed to dream because when she does her ... dreams become real. Her octopus-like pet, Monster, came into her life this way at age six when curiosity got the better of her and she chugged down a dream. While searching for a cupcake for Monster, Sophie is inadvertently seen by Mr. Nightmare, a customer in her parents' dream store. Soon after this, her parents disappear, their dream store is trashed and dreams are stolen, leaving Sophie to try to figure out what's going on, catch the perpetrator and rescue her parents. Imaginative and fun, this adventurous tween fantasy will be thoroughly enjoyed by all ages.
Reviewed by Sharyn H.
Read more reviews at Goodreads.com.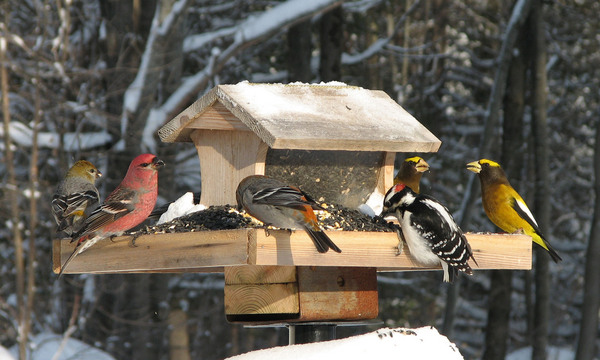 This year is the National Audubon Society's 116th annual Christmas Bird Count, one of the largest (if not the largest) citizen science initiatives in the nation. Volunteers from across the country will count and identify the birds that visit their home feeders sometime between ...
---
---