Marathon County Public Library
learning • community • ideas • information
---
Holiday hours: All MCPL locations will be closed by 5pm on Wed., 11/25, and closed all day Thu., 11/26.
---
Event of the moment:
Mon., 12/7/15, 6:00pm – 8:00pm @ MCPL Wausau
The
Wisconsin Institute for Public Policy and Service
(WIPPS) is hosting a series of community forums aimed at gathering public input on several important topics. Thoughts and comments generated during these forums will be shared with federal officials and policymakers through a nationwide effort by the
Kettering Foundation
. Seating is limited to 18 participants for each forum. To register, call Connie Nikolai at 715-261-6368 or email connie.nikolai@uwc.edu. ...
(read more)
Community Money Management Social Issues Wausau Adults | Add to your calendar

.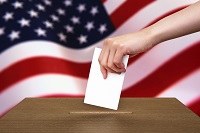 With the 2016 presidential election less than a year away nearly 20 candidates are still left vying for the nation's top spot. In addition to interviews and televised debates, another great resource for learning about the presidential hopefuls and where they stand on certain issues can be ...
---
Featured Online Resource
Contains a wealth of primary literature content, including citations and full text of hundreds of thousands of poems, short stories, essays, speeches and plays.
Badgerlink
Login Required
Reading Advice
»
Adult Book ★★★★ The final book of Monroe's Lowcountry Summer Trilogy fills in the remainder of the story of the three Muir half sisters as summer comes to the end. All of the girls living at Sea Breeze have life-changing decisions to make as summer comes to a close. Harper finds her purpose, Dora looks ahead ... , Carson accepts herself, and Mamaw finds life again in this well-written, plot-packed conclusion to their stories. The author does a great job of rounding out the series and tying up loose ends of seemingly real life characters you have cared for since book one. Again, this is a wonderful beach read and series that I recommend all of the time! I definitely recommend reading the first two books of the series before this book. The characters and the setting are easy to fall in love with, making you wish that you lived in Sea Breeze too.
Reviewed by Ashley C.
Read more reviews at Goodreads.com.
---