Marathon County Public Library
learning • community • ideas • information
---
---
Adult Book ★★★★★ Jo Nesbo, an award-winning author from Norway, has written another gripping thriller. The novel takes place in the seedy underworld of Oslo, but begins in a state-of-the-art prison. Prisoner Sony Loftus has a heroin addiction which has a steady supply, as long as he takes the fall for some gr ... uesome murders in the area, even while he still remains a prisoner. The connections in this unlikely scheme go all the way to the top. Sonny cares little about his admissions of false guilt as long as the supply of heroin is uninterrupted. And it has been this way since his father took his own life rather that face exposure as a cop on the take. When a stunning revelation about his father reaches Sonny, things change quickly. The information trumps his desire for heroin oblivion and he becomes wanted by both the police and his criminal connections after a brazen escape. It's another best-seller from Nesbo and very hard to put down!
Reviewed by Karen J.
Read more reviews at Goodreads.com.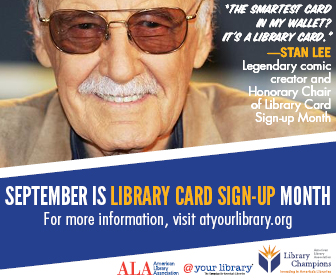 This September, libraries all across the country are reminding parents and children that a library card is the most important school supply, whether you are a child or an adult returning to school after a long absence. Legendary comic book creator Stan Lee is the face of the 2014-2015 national ...
---
Featured Online Resource
An exciting and easy way for young researchers to experience online searching, incorporating safe results from three primary school-level databases. Features an animated, dinosaur-themed interface that helps students develop basic search methodologies.
Badgerlink
Children
Login Required
»
---