Marathon County Public Library
learning • community • ideas • information
---
---
Tax Forms

A selection of federal and state tax forms is available January-April at all MCPL locations, but please contact your local MCPL to verify the availability of specific forms. Alternatively, most forms, schedules and publications are available online at the following links:
If we don't have a particular tax form or publication, we may be able to print copies for you at 10¢ per page.
To request tax forms and publications by mail, call 1-800-829-3676 for federal and 608-266-1961 for state.
For local tax preparation assistance information, visit www.unitedwaymc.org/PDFs/211/TAXINFO.pdf.
Adult Book ★★★★ This lovely lifestyle book is packed full of plant-based, gluten-free recipes, all inspired by the French culture, for each season. I loved the passion in this book, from the lifestyle tips to the wonderful recipes, to the yoga routines. Plus, I learned so much more about a plant-based diet r ... eading it. Did you know that (contrary to what the media and some doctors tell us) Leffler states that milk is not a healthy source of calcium? The countries who consume the most dairy actually have the highest rates of osteoporosis, because dairy is so acidic it leaches the calcium right out of bones. Plant based calcium does not have this affect, so your body actually absorbs the nutrients it needs like it is supposed to. That is just one tidbit you'll find in this book that centers around the power of plants and the wonderful French culture.
Reviewed by Sarah M.
Read more reviews at Goodreads.com.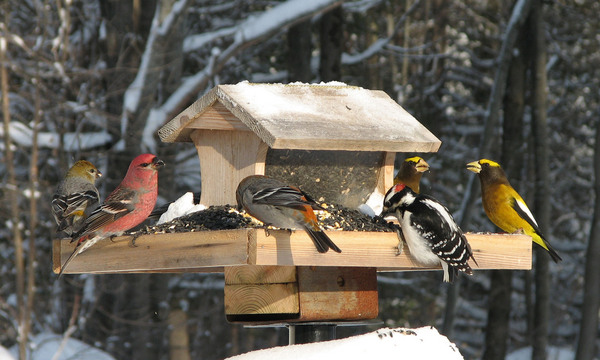 This year is the National Audubon Society's 116th annual Christmas Bird Count, one of the largest (if not the largest) citizen science initiatives in the nation. Volunteers from across the country will count and identify the birds that visit their home feeders sometime between ...
---
Featured Online Resource
Practice tests, tutorials, and e-books to help you succeed at work, school, or while searching for a job. Offers test prep.: ACT, AP, CLEP, PSAT, SAT, TOEFL, GED, U.S. Citizenship, and more; tutorials for popular software: Microsoft Office, Adobe CS, Windows, Apple OS, and more; reading, writing, and math tutorials for all ages.
Please note: If you created a LearningExpress account prior to January 2014, you will need to re-register.
Badgerlink
Teen
Children
Computers & Technology
Job Search
Online Courses
Small Business
»
---