Marathon County Public Library
learning • community • ideas • information
---
---
Event of the moment:
Thu., 9/18/14, 4:30pm – 6:30pm @ MCPL Athens
Children of all ages and their families are invited to build creative projects using LEGO® blocks! Blocks will be provided.
Hands-on Learning Athens Children | Add to your calendar

.
Adult Book ★★★★★ This book is a must read for those interested in success or as a personal roadmap to "how to get ahead" in this world. Gladwell busts the popular conception that success is based upon luck. In fact, using countless examples of real success stories (i.e. the rich and famous), Gladwell demo ... nstrates that success isn't primarily due to luck, but rather, hard work (specifically, a research based figure of nearly 10,000 hours to hone your skill in a particular area), location, and timing i.e. being at the right place at the right time. Outliers are those hugely successful people who while finding themselves at an opportune time and place were willing to work harder than most at their passion and huge success was the by product.
Reviewed by Marsha Y.
Read more reviews at Goodreads.com.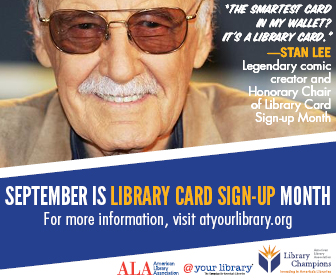 This September, libraries all across the country are reminding parents and children that a library card is the most important school supply, whether you are a child or an adult returning to school after a long absence. Legendary comic book creator Stan Lee is the face of the 2014-2015 national ...
---
Featured Online Resource
Brings together, in digital form, two categories of primary and secondary materials: writings about the State of Wisconsin and unique or valuable materials that relate to its history and ongoing development.
»
---