Marathon County Public Library
learning • community • ideas • information
---
Holiday hours: All MCPL locations will be closed Wed.-Thu., 12/24 – 12/25.
---
Event of the moment:
Mon., 12/22/14, 5:30pm – 7:00pm @ MCPL Spencer
Children of all ages and their families are invited to build creative projects using LEGO® blocks! Blocks will be provided.
Hands-on Learning Spencer Children Tweens | Add to your calendar

.
Many of our locations are taking a break from regular story times over the winter holidays. Here is a list of story time breaks for all MCPL locations. For further questions, feel free to contact us. MCPL Wausau: No weekly story time from December 21, 2014-January 4, 2015. Play and Learn ...
---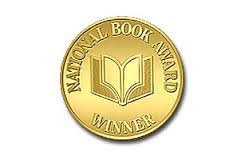 Finalists for the National Book Award were announced today, bringing recognition to 20 authors in four categories: fiction, non-fiction, poetry and young people's literature. The winners in each category will be announced Nov. 19, but if you'd like to sample the work of some of the ...
---
Featured Online Resource
Search for company profiles, market research, industry profiles, international economic and political data, and more.
Badgerlink
Finance & Investing
Login Required
Small Business
»
Adult Book ★★★★ Fans of Anthony Bourdain's "Kitchen Confidential" will enjoy this fictionalized account of restaurant life in London. The protagonist stumbles into a restaurant job after he is unable to find work with his English literature degree. He is given menial kitchen tasks and christened "Monocle" by ... his crude coworkers. His boss is a sadistic tyrant who enjoys punishing his employees by locking them in the walk-in cooler or pouring scalding caramel on their hands. But Monocle has demons of his own, and struggles with his family relationships as he learns how to survive in the restaurant business. There are some dark and twisted moments, but also plenty of humor. The author captures all of the grit and glory of kitchen life, and at times the book seems more like a real-life account of kitchen life rather than a novel.
Reviewed by Kathleen K.
Read more reviews at Goodreads.com.
---