Marathon County Public Library
learning • community • ideas • information
---
---
Tax Forms

A selection of federal and state tax forms is available January-April at all MCPL locations, but please contact your local MCPL to verify the availability of specific forms. Alternatively, most forms, schedules and publications are available online at the following links:
For local tax preparation assistance, visit our Online Resources webpage and select the "Taxes" topic.
Event of the moment:
Wed., 3/18/15 – Wed., 5/20/15 @ MCPL Wausau
Stop by the library to view works of art created by children, young adults and adults with disabilities from across Wisconsin. The "Creative Power" traveling exhibition includes 30 pieces of art, and is curated by VSA Wisconsin, a group dedicated to providing ...
(read more)
Art Community Wausau Adults Children Educators Parents Teens | Add to your calendar

.
Adult Book ★★★★★ This book is a call to be honest about your life and your search for happiness. It doesn't just focus on material wealth or shallow happiness but looks deeper into the spiritual level and the important role that a healthy spiritual life has on overall happiness. It guides us to love ourselves ... , treat our happiness and well-being from a holistic perspective, and to make a fresh start today in putting God first. I found this book refreshing, uplifting, and encouraging.
Reviewed by Bettina P.
Read more reviews at Goodreads.com.

Check out OverDrive's Big Library Read, which offers community-wide access to a title during March 17-31, 2015. During this special event, all card holders can simply download "Shakespeare Saved My Life" by Laura Bates from OverDrive. Since OverDrive is offering simultaneous use ...
---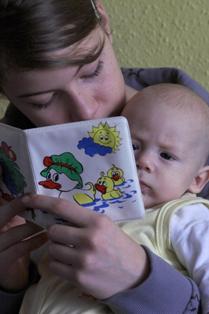 Beginning Monday, January 5, 2015, MCPL is taking a new approach to Book Babies Story time. Story time will begin at 10 a.m., and just like usual, provide 15 minutes of books, songs, and rhymes. But then, parents and babies are encouraged to hang out after and give babies a chance to do ...
---
Featured Online Resource
Newspaper Source Plus includes over 1,500 full-text newspapers and newswires, providing more than 27 million full-text articles. In addition, the database features more than 583,100 television and radio news transcripts, videos and podcasts. Nine Wisconsin newspapers are included.
Badgerlink
Login Required
Newspapers & Magazines
»
---