Marathon County Public Library
---
Visit the Marathon County Public Library (MCPL) for access to thousands of children's books, magazines, videos, audio books, music and more! Plus, MCPL offers a variety of children's events including story times, arts and crafts, sing-alongs, summer reading program, hands-on learning, musical performances, puppet shows and more! MCPL children's programming is geared toward children (pre-K–grade 5) and tweens (grades 3–5). Teen programming (grades 6-12) is offered via our Teen Services / TeenZone program.
Staff Reviews
Children's Book ★★★★ Go on an adventure and find out all the fun things you can do in the snow! The book follows the rhythm of the children's song "If You're Happy and You Know It," so the book can be sung to the classic tune. Go skiing, sledding, and drink cocoa with a walrus, caribou, polar bear and other arcti ... c creatures. Recommended for preschool children and families.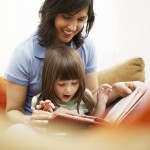 Make an extra effort to show affection to your child, especially while reading. Kids need a nurturing, healthy relationship to prosper academically. When your child feels loved, he or she is more willing to learn, listen, and grow and will therefore do better in school! Visit ...
---