Tween Book ★★★★ It is midnight when 11 year-old Stella Mills and her eight year-old brother Jojo witness the burning of a cross by members of the Ku Klux Klan not far from their house. It's 1932 in Bumblebee, North Carolina and news of the active Klan so close by means their parents need to alert all their ... African-American neighbors. Stella is practicing to be a good writer, records local stories, and often goes outside where she can think better which is no longer safe. When a neighbor's house is set on fire and the youngest child is missing, Stella races to try to find her. This compelling, well written historical novel covers segregation in a personal, poignant way with courageous, likeable characters that will have tweens asking questions and searching for additional information.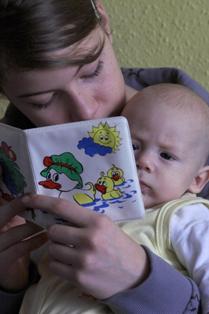 Beginning Monday, January 5, 2015, MCPL is taking a new approach to Book Babies Story time. Story time will begin at 10 a.m., and just like usual, provide 15 minutes of books, songs, and rhymes. But then, parents and babies are encouraged to hang out after and give babies a chance to do ...
---
Visit the Marathon County Public Library (MCPL) for access to thousands of children's books, magazines, videos, audio books, music and more! Plus, MCPL offers a variety of children's events including story times, arts and crafts, sing-alongs, summer reading program, hands-on learning, musical performances, puppet shows and more! MCPL children's activities are intended for children (pre-K–grade 5) and tweens (grades 3–5). Teen programming (grades 6-12) is offered via our TeenZone / Teen Services program.
---