Tween Book ★★★★ Don't miss Wisconsin author Michael's Perry's foray into children's fiction, even if you are a grown up! This dystopian chapter book follows twelve-year-old Maggie, (who later renames herself Ford Falcon) her life living outside of the Bubble Cities, and her quest to find her parents after th ... ey mysteriously disappear. Despite the futuristic, sci-fi plot, adult fans of Perry's nonfiction will enjoy the little quirks and references to farm life in this book. There is a cranky rooster named Hatchet, neighbors that seem to draw their inspiration from Perry's own neighbor Tom and his wife from "Visiting Tom," and even an homage to Bon Iver. Tweens will love the humor and the adventures of tough Maggie/Ford Falcon. I was disappointed with last third of the book, because the pace felt rushed compared to the rest of the story. While I'm glad Perry avoided a predictable ending, it still felt a bit clunky, but perhaps I felt disappointed because I didn't want this book to end!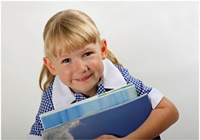 Many of our locations will be participating in a story time break before our Summer Library Program begins to accommodate school visits and prepare for our summer programs. Athens, Hatley and Rothschild will continue to have regularly scheduled story times. Marathon City will continue to have ...
---
Visit the Marathon County Public Library (MCPL) for access to thousands of children's books, magazines, videos, audio books, music and more! Plus, MCPL offers a variety of children's events including story times, arts and crafts, sing-alongs, summer reading program, hands-on learning, musical performances, puppet shows and more! MCPL children's activities are intended for children (pre-K–grade 5) and tweens (grades 3–5). Teen programming (grades 6-12) is offered via our TeenZone / Teen Services program.
---