Tween Book ★★★★ In this rather unusual tale a young couple, whose house is perched in a large pecan tree, discover a baby in a cracked egg from a bird's nest on the sidewalk. This human-looking baby has feathers for hair and no mouth or nose but in its place a beak. His adopted parents, sister, and the sm ... all community of Goosepimple adapt to life with him, but as he grows and goes to school his life becomes more difficult and he longs to fly. This short, but significant, tween book is about fitting in and dreaming big dreams. I loved it!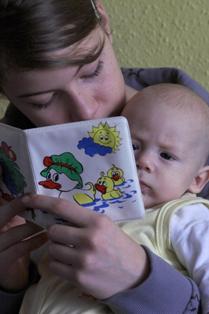 Beginning Monday, January 5, 2015, MCPL is taking a new approach to Book Babies Story time. Story time will begin at 10 a.m., and just like usual, provide 15 minutes of books, songs, and rhymes. But then, parents and babies are encouraged to hang out after and give babies a chance to do ...
---
Visit the Marathon County Public Library (MCPL) for access to thousands of children's books, magazines, videos, audio books, music and more! Plus, MCPL offers a variety of children's events including story times, arts and crafts, sing-alongs, summer reading program, hands-on learning, musical performances, puppet shows and more! MCPL children's activities are intended for children (pre-K–grade 5) and tweens (grades 3–5). Teen programming (grades 6-12) is offered via our TeenZone / Teen Services program.
---