Children's Book ★★★★★ Wolfie is a baby wolf, not a baby bunny, but Mama and Papa bunny don't seem to care when they adopt him after finding him in a basket on their doorstep. Their daughter Dot tries to warn them , "he's going to eat us all up." Her parents are already smitten but Dot is cautious and maint ... ains her distance. When Wolfie grows bigger and a big bear tries to grab him and eat him, Dot surprisingly discovers he really is her little brother. This cute picture book with simple, clear illustrations is a warm, humorous read-aloud that is perfect for preschoolers and their families.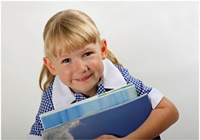 Many of our locations will be participating in a story time break before our Summer Library Program begins to accommodate school visits and prepare for our summer programs. Athens, Hatley and Rothschild will continue to have regularly scheduled story times. Marathon City will continue to have ...
---
Visit the Marathon County Public Library (MCPL) for access to thousands of children's books, magazines, videos, audio books, music and more! Plus, MCPL offers a variety of children's events including story times, arts and crafts, sing-alongs, summer reading program, hands-on learning, musical performances, puppet shows and more! MCPL children's activities are intended for children (pre-K–grade 5) and tweens (grades 3–5). Teen programming (grades 6-12) is offered via our TeenZone / Teen Services program.
---