Tween Book ★★★★ Luna and Willow live in a village where houses are raised on stilts. They have heard stories about creatures living under the water and the time before the river had a dam, when the clean water flowed freely, and the mucky, slick swamp didn't exist. When Luna and Willow venture out in their ... flat boat, and Luna ignores her mother's silly rules and goes below the dam, her sister falls in the swamp and gets sick. Since no one has ever recovered from the wasting swamp sickness, Luna knows she has to cross the swamp in search of a cure, even it means encountering the water sprites. This short tween novel is an enjoyable story about two sets of sisters from two very different worlds and the great mystery that has so deeply affected their lives.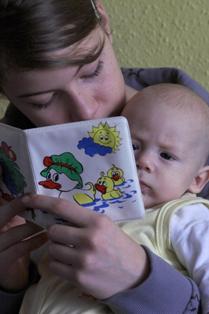 Beginning Monday, January 5, 2015, MCPL is taking a new approach to Book Babies Story time. Story time will begin at 10 a.m., and just like usual, provide 15 minutes of books, songs, and rhymes. But then, parents and babies are encouraged to hang out after and give babies a chance to do ...
---
Visit the Marathon County Public Library (MCPL) for access to thousands of children's books, magazines, videos, audio books, music and more! Plus, MCPL offers a variety of children's events including story times, arts and crafts, sing-alongs, summer reading program, hands-on learning, musical performances, puppet shows and more! MCPL children's activities are intended for children (pre-K–grade 5) and tweens (grades 3–5). Teen programming (grades 6-12) is offered via our TeenZone / Teen Services program.
---