Children's Book ★★★★★ Tony Baroni loves macaroni so much that he eats it for every meal! His Nonna, or Grandma, tries to persuade Tony to eat a variety of other pastas in order to have him eat something else until he finally decides to eat something different entirely. This is such a light hearted book with some v ... ery beautiful illustrations! My three-year-old loved this book, and also loves macaroni! It was fun to interact with my daughter while reading this book because she was introduced to lots of different kinds of pastas she had never heard of before. We went to the store and saw some that were mentioned. This makes the book more than a book and into an interactive experience. I highly recommend it!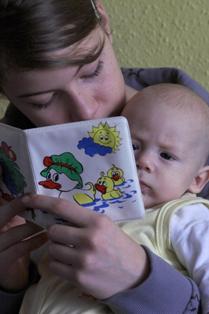 Beginning Monday, January 5, 2015, MCPL is taking a new approach to Book Babies Story time. Story time will begin at 10 a.m., and just like usual, provide 15 minutes of books, songs, and rhymes. But then, parents and babies are encouraged to hang out after and give babies a chance to do ...
---
Visit the Marathon County Public Library (MCPL) for access to thousands of children's books, magazines, videos, audio books, music and more! Plus, MCPL offers a variety of children's events including story times, arts and crafts, sing-alongs, summer reading program, hands-on learning, musical performances, puppet shows and more! MCPL children's activities are intended for children (pre-K–grade 5) and tweens (grades 3–5). Teen programming (grades 6-12) is offered via our TeenZone / Teen Services program.
---