Children's Book ★★★★ Author and illustrator Craig Frazier creates dots of all colors and dimensions that young readers can discover around them. There are brightly-colored floating balloon dots, big drum stick dots, oranges (dots) falling from a tree, traffic light dots, ice cream dots, pea dots, heavy dumbbell d ... ots, light bubble dots and more. This fun "I Spy" read-alike with its simple, bright, colorful illustrations is a fun read-aloud emphasizing colors and shapes for preschool children.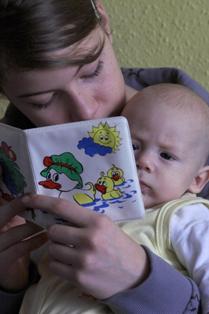 Beginning Monday, January 5, 2015, MCPL is taking a new approach to Book Babies Story time. Story time will begin at 10 a.m., and just like usual, provide 15 minutes of books, songs, and rhymes. But then, parents and babies are encouraged to hang out after and give babies a chance to do ...
---
Visit the Marathon County Public Library (MCPL) for access to thousands of children's books, magazines, videos, audio books, music and more! Plus, MCPL offers a variety of children's events including story times, arts and crafts, sing-alongs, summer reading program, hands-on learning, musical performances, puppet shows and more! MCPL children's activities are intended for children (pre-K–grade 5) and tweens (grades 3–5). Teen programming (grades 6-12) is offered via our TeenZone / Teen Services program.
---