Children's Book ★★★★★ This is an adorable picture book that features a family cat that secretly follows his family as they travel around Europe. It features landmarks in some of the greatest cities, such as London, Amsterdam, Paris, and Venice, and information at end of the book on each. As someone who's been to m ... any of the cities featured, I thought the pictures were authentic and are bound to foster the love of traveling in any child. The ending was great as well. This is a book that I'd like to own someday when I have children of my own!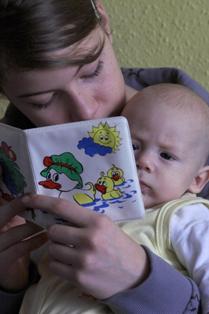 Beginning Monday, January 5, 2015, MCPL is taking a new approach to Book Babies Story time. Story time will begin at 10 a.m., and just like usual, provide 15 minutes of books, songs, and rhymes. But then, parents and babies are encouraged to hang out after and give babies a chance to do ...
---
Visit the Marathon County Public Library (MCPL) for access to thousands of children's books, magazines, videos, audio books, music and more! Plus, MCPL offers a variety of children's events including story times, arts and crafts, sing-alongs, summer reading program, hands-on learning, musical performances, puppet shows and more! MCPL children's activities are intended for children (pre-K–grade 5) and tweens (grades 3–5). Teen programming (grades 6-12) is offered via our TeenZone / Teen Services program.
---