Children's Book ★★★★★ Sam and Dave are determined to dig a hole until they find something spectacular. What unfolds in this story is a wonderful mix of what is happening in the story and what is happening in the illustrations. This book is a 2015 Caldecott Honor Book for a good reason. The book as a whole, the wri ... ting and the illustrations, play off of each other so well that this book tells a story beyond the words on the page. There is such a sense of adventure in this book that any child will find this a wonderful read! My three year old loved looking at the pictures and pointing things out on the page that should not be missed. I definitely recommend this book!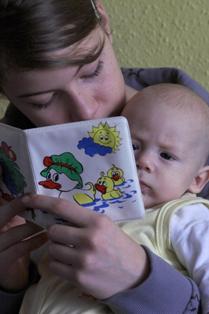 Beginning Monday, January 5, 2015, MCPL is taking a new approach to Book Babies Story time. Story time will begin at 10 a.m., and just like usual, provide 15 minutes of books, songs, and rhymes. But then, parents and babies are encouraged to hang out after and give babies a chance to do ...
---
Visit the Marathon County Public Library (MCPL) for access to thousands of children's books, magazines, videos, audio books, music and more! Plus, MCPL offers a variety of children's events including story times, arts and crafts, sing-alongs, summer reading program, hands-on learning, musical performances, puppet shows and more! MCPL children's activities are intended for children (pre-K–grade 5) and tweens (grades 3–5). Teen programming (grades 6-12) is offered via our TeenZone / Teen Services program.
---