Children's Book ★★★★★ Author and illustrator Peter Brown gives us another humorous read-aloud with "My Teacher Is a MONSTER!". Bobby has a familiar problem: a teacher, Ms. Kirby, who is the bane of his existence. She reminds him to follow school rules by saying things like "no recess for children who throw p ... aper airplanes in class". In short, he thinks she is a monster. But then he runs into her in a park and, well, she doesn't seem so bad. Wonderfully, almost magically, as Bobby begins to see his teacher differently, the monster-like illustrations of her also gradually transform on each page until she finally looks like a normal person. This wonderful back-to-school picture book will be thoroughly enjoyed by all ages.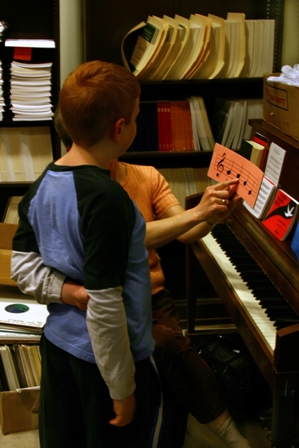 Music has many benefits to children of all ages; it gives children an outlet for expression, it breaks down language so children hear the smaller sounds in words (also known as phonological awareness), and music stimulates brain development in specific areas including language and reasoning. So, ...
---
Visit the Marathon County Public Library (MCPL) for access to thousands of children's books, magazines, videos, audio books, music and more! Plus, MCPL offers a variety of children's events including story times, arts and crafts, sing-alongs, summer reading program, hands-on learning, musical performances, puppet shows and more! MCPL children's activities are intended for children (pre-K–grade 5) and tweens (grades 3–5). Teen programming (grades 6-12) is offered via our TeenZone / Teen Services program.
---