Children's Book ★★★★★ For fans of the Harry Potter series, this beautiful new release of the first book in the beloved series is a must read! With full color illustrations at least every few pages, this is a new, fantastic way to read the book that brought us the magical world J.K. Rowling created. Perfect for dev ... oted fans, this version is also great for those looking for a more visual way to introduce readers to Harry Potter and get them excited about reading. I highly recommend this gorgeous new book!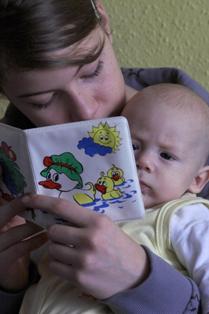 Beginning Monday, January 5, 2015, MCPL is taking a new approach to Book Babies Story time. Story time will begin at 10 a.m., and just like usual, provide 15 minutes of books, songs, and rhymes. But then, parents and babies are encouraged to hang out after and give babies a chance to do ...
---
Visit the Marathon County Public Library (MCPL) for access to thousands of children's books, magazines, videos, audio books, music and more! Plus, MCPL offers a variety of children's events including story times, arts and crafts, sing-alongs, summer reading program, hands-on learning, musical performances, puppet shows and more! MCPL children's activities are intended for children (pre-K–grade 5) and tweens (grades 3–5). Teen programming (grades 6-12) is offered via our TeenZone / Teen Services program.
---