Tween Book ★★★★★ Fifth grade was the worst. Sixth grade could be a fresh start but Trent is sure everyone hates him for what he did—accidentally hit Jared Richards in the chest with a hockey puck and killed him. Trent is having trouble forgiving himself and remains mired in guilt. Things slowly begin to cha ... nge after he meets Fallon Little, an odd girl with a scar across her face and lots of fictional stories about how she got it. Friendship is hard work and speaking one's truth is acutely more difficult than either of them could have ever imagined. This strong, powerful tween novel will affect you long after you finish reading it. Don't miss this book.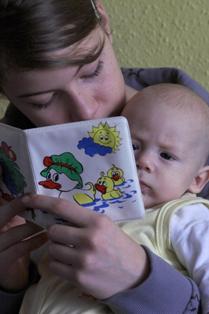 Beginning Monday, January 5, 2015, MCPL is taking a new approach to Book Babies Story time. Story time will begin at 10 a.m., and just like usual, provide 15 minutes of books, songs, and rhymes. But then, parents and babies are encouraged to hang out after and give babies a chance to do ...
---
Visit the Marathon County Public Library (MCPL) for access to thousands of children's books, magazines, videos, audio books, music and more! Plus, MCPL offers a variety of children's events including story times, arts and crafts, sing-alongs, summer reading program, hands-on learning, musical performances, puppet shows and more! MCPL children's activities are intended for children (pre-K–grade 5) and tweens (grades 3–5). Teen programming (grades 6-12) is offered via our TeenZone / Teen Services program.
---