Children's Book ★★★★ Things were going well in Fairylandia for a reformed Wolfgang, a.k.a. the "Big Bad Wolf", until the Three Little Pigs' houses were vandalized and he is accused. Arrested and released, he reluctantly teams up with Ferkel, the fourth little pig, and as the new "Big Bad Detective Agency ... " they set off to find the perpetrator. Things get really funny when they question Hansel and Gretel, Cinderella, Goldilocks, Jack (but not his beanstalk) and Puss in Boots. This humorous, beginning chapter book with expressive illustrations will be sure to please children familiar with these childhood fairy tales and maybe shed some new light on the much-maligned "Big Bad Wolf."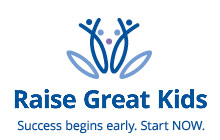 If you are a parent, guardian, grandparent, or child caregiver, we would like your input! Raisgreatkids.org is a local website put out by a collaborative effort of community partners under the Early Years Coalition. Marathon County Public Library is a member of this coalition, and we need your help ...
---
Visit the Marathon County Public Library (MCPL) for access to thousands of children's books, magazines, videos, audio books, music and more! Plus, MCPL offers a variety of children's events including story times, arts and crafts, sing-alongs, summer reading program, hands-on learning, musical performances, puppet shows and more! MCPL children's activities are intended for children (pre-K–grade 5) and tweens (grades 3–5). Teen programming (grades 6-12) is offered via our TeenZone / Teen Services program.
---