Children's Book ★★★★★ Waking up in the fireplace ashes of an unfamiliar and very broken castle, Sand discovers that nothing lives here, except the huge, dense thorny brambles that enclose the whole exterior, making it impossible to leave. He begins mending broken objects and soon discovers Perrotte, a girl his age ... and heir to the castle who has awakened from the dead. They become friends as they uncover secrets about the castle's history and search for freedom. This enchanting fantasy is a wonderful story of friendship, magic, hope and love. Tweens and others will love it.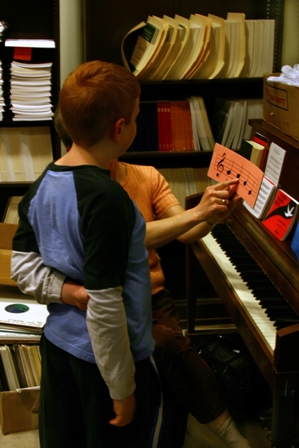 Music has many benefits to children of all ages; it gives children an outlet for expression, it breaks down language so children hear the smaller sounds in words (also known as phonological awareness), and music stimulates brain development in specific areas including language and reasoning. So, ...
---
Visit the Marathon County Public Library (MCPL) for access to thousands of children's books, magazines, videos, audio books, music and more! Plus, MCPL offers a variety of children's events including story times, arts and crafts, sing-alongs, summer reading program, hands-on learning, musical performances, puppet shows and more! MCPL children's activities are intended for children (pre-K–grade 5) and tweens (grades 3–5). Teen programming (grades 6-12) is offered via our TeenZone / Teen Services program.
---