Children's Book ★★★★★ "Ice Dogs" is a very well written adventure book for tweens. The story is told from 14 year-old Victoria Secord's point of view, and follows her adventure of being lost in the Alaskan Wilderness. Victoria has grown up in Alaska and has been around dogsled racers most of her life. Following th ... e death of her dad she takes to the races. While out on a run she happens across a boy who has been in a snowmobile accident and helps him find his way home. Along the way they get lost and need to get home before the cold takes them. I couldn't put the book down! It was gripping yet humorous. It's a great book for boys and girls who love animals and adventure.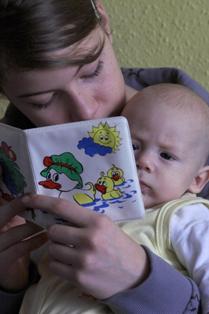 Beginning Monday, January 5, 2015, MCPL is taking a new approach to Book Babies Story time. Story time will begin at 10 a.m., and just like usual, provide 15 minutes of books, songs, and rhymes. But then, parents and babies are encouraged to hang out after and give babies a chance to do ...
---
Visit the Marathon County Public Library (MCPL) for access to thousands of children's books, magazines, videos, audio books, music and more! Plus, MCPL offers a variety of children's events including story times, arts and crafts, sing-alongs, summer reading program, hands-on learning, musical performances, puppet shows and more! MCPL children's activities are intended for children (pre-K–grade 5) and tweens (grades 3–5). Teen programming (grades 6-12) is offered via our TeenZone / Teen Services program.
---