Children's Book ★★★ Darth Vader is trying to put his twins Luke and Leia to sleep but they have the usual questions and demands of most kids at bedtime. He tells them rhyming stories about droids, wookies, Han Solo, Boba Fett and other familiar Star Wars characters. While this is not great literature, this cute ... book will be devoured by Star Wars fans, old and young alike, who are continually searching for more books about their favorite characters.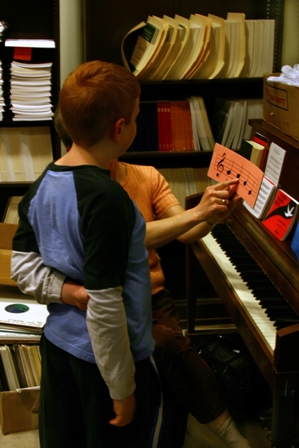 Music has many benefits to children of all ages; it gives children an outlet for expression, it breaks down language so children hear the smaller sounds in words (also known as phonological awareness), and music stimulates brain development in specific areas including language and reasoning. So, ...
---
Visit the Marathon County Public Library (MCPL) for access to thousands of children's books, magazines, videos, audio books, music and more! Plus, MCPL offers a variety of children's events including story times, arts and crafts, sing-alongs, summer reading program, hands-on learning, musical performances, puppet shows and more! MCPL children's activities are intended for children (pre-K–grade 5) and tweens (grades 3–5). Teen programming (grades 6-12) is offered via our TeenZone / Teen Services program.
---