Tween Book ★★★★★ This book for tween boys is full of adventure and mystery. It is based in the Whippet Hotel, an exotic hotel geared for the rich. The main character, Leo, works for the hotel alongside his Dad. When Leo finds the first box, it starts him on an adventure throughout the hotel and the floors bet ... ween the floors. For parents, there is none of the violence that is found in some other adventure series books for this age group.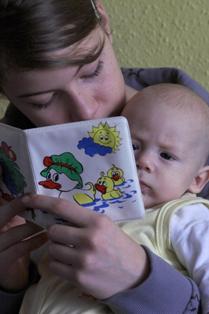 Beginning Monday, January 5, 2015, MCPL is taking a new approach to Book Babies Story time. Story time will begin at 10 a.m., and just like usual, provide 15 minutes of books, songs, and rhymes. But then, parents and babies are encouraged to hang out after and give babies a chance to do ...
---
Visit the Marathon County Public Library (MCPL) for access to thousands of children's books, magazines, videos, audio books, music and more! Plus, MCPL offers a variety of children's events including story times, arts and crafts, sing-alongs, summer reading program, hands-on learning, musical performances, puppet shows and more! MCPL children's activities are intended for children (pre-K–grade 5) and tweens (grades 3–5). Teen programming (grades 6-12) is offered via our TeenZone / Teen Services program.
---