Tween Book ★★★★ Just two days after the funeral of her pet human, Fluffy (a.k.a. Amelia), a young girl named Winnie bursts into mournful Miss Drakes's secret door in the basement proclaiming that she has been sent by her great-aunt Amelia so Miss Drake won't be lonely. Almost immediately, Miss Drake, who h ... appens to be a dragon, theorizes that this seemingly obnoxious small human is going to be an extremely difficult pet to train. An adventure together leads them to more fantastical creatures and the procurement of a bewitched sketchbook destined to bring them both a bunch of trouble. This cute, heartwarming, humorous tale of unlikely friendships and love is one that tweens and all ages will enjoy.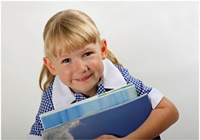 Many of our locations will be participating in a story time break before our Summer Library Program begins to accommodate school visits and prepare for our summer programs. Athens, Hatley and Rothschild will continue to have regularly scheduled story times. Marathon City will continue to have ...
---
Visit the Marathon County Public Library (MCPL) for access to thousands of children's books, magazines, videos, audio books, music and more! Plus, MCPL offers a variety of children's events including story times, arts and crafts, sing-alongs, summer reading program, hands-on learning, musical performances, puppet shows and more! MCPL children's activities are intended for children (pre-K–grade 5) and tweens (grades 3–5). Teen programming (grades 6-12) is offered via our TeenZone / Teen Services program.
---