Children's Book ★★★★★ Learn about New York City, the beloved home to the author and illustrator of this book! This is a great book for elementary school aged children, who will learn facts about New York's history to the present day. Of course all of the landmarks are beautifully depicted through the artwork and i ... llustrations of this book. You definitely get the feeling that the author really loves his city and is excited to share it with young readers. Having never been to New York City, I sure want to visit even more now that I have read this wonderful book!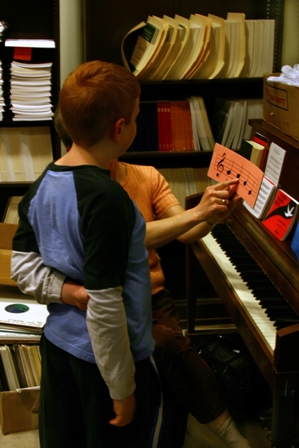 Music has many benefits to children of all ages; it gives children an outlet for expression, it breaks down language so children hear the smaller sounds in words (also known as phonological awareness), and music stimulates brain development in specific areas including language and reasoning. So, ...
---
Visit the Marathon County Public Library (MCPL) for access to thousands of children's books, magazines, videos, audio books, music and more! Plus, MCPL offers a variety of children's events including story times, arts and crafts, sing-alongs, summer reading program, hands-on learning, musical performances, puppet shows and more! MCPL children's activities are intended for children (pre-K–grade 5) and tweens (grades 3–5). Teen programming (grades 6-12) is offered via our TeenZone / Teen Services program.
---