Tween Book ★★★★★ Duncan McKay lives with his mother on the island of Arvidia and knows how to speak and understand the language of cats. His fearful mother is full of secrets, including information about his deceased father and mysteriously does not want him to excel at anything. In addition to Duncan's que ... stions about his identity, kittens on the island are disappearing, the king is seriously ill, and the successor to the throne, princess Lydia, is missing which means the evil earl could become king. Drugged and tricked, Duncan finds himself on a dangerous sea voyage uncovering facts about himself, his father, the missing kittens, and the plight of his island home. This rousing, thoroughly enjoyable, adventurous romp, told in wonderful prose, will have older tweens, cat lovers, and others wishing this book had many more chapters.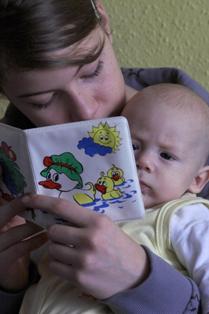 Beginning Monday, January 5, 2015, MCPL is taking a new approach to Book Babies Story time. Story time will begin at 10 a.m., and just like usual, provide 15 minutes of books, songs, and rhymes. But then, parents and babies are encouraged to hang out after and give babies a chance to do ...
---
Visit the Marathon County Public Library (MCPL) for access to thousands of children's books, magazines, videos, audio books, music and more! Plus, MCPL offers a variety of children's events including story times, arts and crafts, sing-alongs, summer reading program, hands-on learning, musical performances, puppet shows and more! MCPL children's activities are intended for children (pre-K–grade 5) and tweens (grades 3–5). Teen programming (grades 6-12) is offered via our TeenZone / Teen Services program.
---