Marathon County Public Library
---
Visit the Marathon County Public Library (MCPL) for access to thousands of children's books, magazines, videos, audio books, music and more! Plus, MCPL offers a variety of children's events including story times, arts and crafts, sing-alongs, summer reading program, hands-on learning, musical performances, puppet shows and more! MCPL children's programming is geared toward children (pre-K–grade 5) and tweens (grades 3–5). Teen programming (grades 6-12) is offered via our Teen Services / TeenZone program.
Staff Reviews
Children's Book ★★★★★ This book is a wonderful compilation of artwork depicting the favorite animals of famous children's authors and illustrators. Of course it's no surprise that Nick Bruel's favorite is the infamous Bad Kitty; but wait a minute, oh no, I think it really is octopuses; sorry Bad Kitty. ... Beautiful artwork by well-known children's illustrators including Lucy Cousins, Susan Jeffers, Jon Klassen, Mo Willems, Chris Raschka and of course Eric Carle make this book a beautiful feast for the eyes. Not to be missed.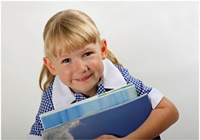 Summer is fast approaching, and as usual, there will be some changes to the regular story time schedules at most MCPL locations. Most branches will take a break from their story times to focus on Summer Library Program events. At MCPL Wausau, we'll be taking a break from story times in May to ...
---