February 3, 2012
Castles, wizards, witches, dragons, ogres, knights, princesses, adventure, mystery--all of my favorite ingredients blended into wonderful stories that hook me every time. Here are a few flights into fantasy that have kept me up late at night turning pages.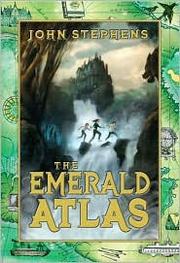 The Emerald Atlas by John Stephens -- Kate, Michael, and Emma have passed from one orphanage to another in the ten years since their parents disappeared to protect them, but now they learn that they have special powers, a prophesied quest to find a magical book, and a fearsome enemy.
Ogre of Oglefort by Diane Stanley -- When the Hag of Dribble, an orphan boy, and a troll called Ulf are sent to rescue a princess from an ogre, it turns out to be far from the routine magical mission they expect.
The Silver Bowl by Eva Ibbotson -- From the age of seven when she became scullery maid in a castle, Molly has seen visions of the future which, years later, lead her and friend Tobias on an adventure to keep Alaric, the heir to the throne, safe from a curse.
A Tale of Two Castles by Gail Carson Levine -- Twelve-year-old Elodie journeys to Two Castles in hopes of studying acting but instead becomes apprentice to a dragon, who teaches her to be observant and use reasoning, thus helping her to uncover who is poisoning the king.
Thomas and the Dragon Queen by Shutta Crum -- When the princess is kidnapped by a dragon queen, thirteen-year-old Thomas, a new--and very small--squire-in-training boldly sets out on a quest to rescue her.
Tuesdays at the Castle by Jessica Day George -- Eleven-year-old Princess Celie lives with her parents, the king and queen, and her brothers and sister at Castle Glower, which adds rooms or stairways or secret passageways most every Tuesday, and when the king and queen are ambushed while travelling, it is up to Celie--the castle's favorite--with her secret knowledge of its never-ending twists and turns, to protect their home and save their kingdom.
---
---