March 15, 2012
These books are on my e-reader and in my book bag. I heartily recommend all of them. If you can suspend reality for a while you will enjoy these fun, absorbing adventures. Happy reading!
Dragonswood by Janet Lee Carey --
In 1192 A.D. on Wilde Island, Tess, the daughter of a cruel blacksmith, is accused of witchcraft and must flee, but when she meets a handsome and enigmatic warden of Dragonswood who offers her shelter, she does not realize that he too harbors a secret that may finally bring about peace among the races of dragon, human, and fairy. Janet Lee Carey definitely knows how to tell a story; you won't be disappointed.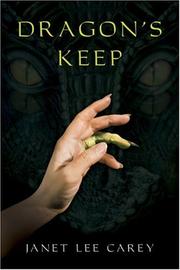 Dragon's Keep by Janet Lee Carey --
In 1145 A.D., as foretold by Merlin, fourteen-year-old Rosalind, who will be the twenty-first Pendragon Queen of Wilde Island, has much to accomplish to fulfill her destiny, while hiding from her people the dragon's claw she was born with that reflects only one of her mother's dark secrets. This companion novel to Dragonswood, was named the best book of the year by the American Library Association and School Library Journal. This enthralling story of a girl searching for her identity will keep you turning pages and perhaps rooting for the dragons. This is a wonderful story for teens and adults.
Earwig and the Witch by Diana Wynne Jones --
Although an orphan, Earwig has always enjoyed living at St. Morwald's, where she manages to make everyone do her bidding, but when she is taken in by foster parents who are actually a witch and a demon, she has a hard time trying to turn the situation to her advantage. This plucky heroine's story is a fun read.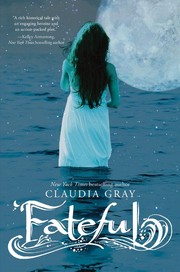 Fateful by Claudia Gray --
When seventeen-year-old Tess Davies, a ladies' maid, meets handsome Alec Marlow aboard the RMS Titanic, she quickly becomes entangled in the dark secrets of his past, but her growing love puts her in mortal peril even before fate steps in. This timely read will appeal to fans of the Downton Abbey series and those interested in stories about the RMS Titanic.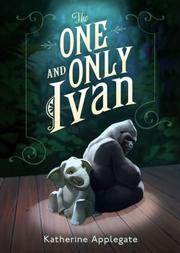 The One and Only Ivan by Katherine Applegate --
When Ivan, a gorilla who has lived for years in a down-and-out circus-themed mall, meets Ruby, a baby elephant that has been added to the mall, he decides that he must find her a better life. This tender story will capture your heart and perhaps leave you thinking more about our relationship to other living creatures; a story for all ages.
The Other Felix by Keir Graff --
Worrying about his father losing his job and the bully at school, fourth-grader Felix has terrifying dreams of the same monster-filled place every night until he meets someone there who looks and sounds strangely familiar. This story may help children facing similar challenges.
---
---