---
What to Read After Watching "Stranger Things"
Submitted by

litew1

on Wed, 08/29/2018 - 11:53
September 15, 2016
In the supernatural/horror/mystery television drama "Stranger Things," a young boy goes missing in small town Indiana in the 1980s. His mother, the police chief, and his friends must face a superatural monster and a top-secret government facility to get him back. 
This series, which premiered on Netflix back in July, has captivated viewers young and old with its suspense, gripping storylines and wildly original characters. If you've already binged watched season one and can't get enough, below is a list of books similar in story and tone, which will (hopefully) tide you over until season two premieres in 2017!
"The Boy Who Drew Monsters" by Keith Donohue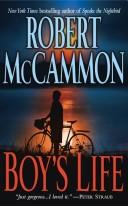 "Boy's Life" by Robert McCammon
"Door to December" by Dean Koontz
"Girls on Fire" by Robin Wasserman
"It " by Stephen King
"A Monster Calls" by Patrick Ness
"Paper Girls" by Brian K. Vaughan
"Pines" by Blake Crouch
"Something Wicked This Way Comes" by Ray Bradbury
"Summer of Night" by Dan Simmons
---
This list originally appeared on booklistreader.com on August 29, 2016
---
---
---